Visiting Disney World isn't just for kids anymore! They have really embraced their "Eating and Drinking Around the World" theme from EPCOT and expanded it throughout all of Walt Disney World. If you're thinking of heading to Orlando for a Bachelorette party or even Bachelor party (hey, there's lots of golf AND booze!) I say, put it on the list of options!
And don't forget, when staying at a Disney onsite resort, there is free transportation to and from the parks and Disney Springs, aka no drinking and driving or DD needed.  Bonus!
Let's get started with my favorite bars and my go-to drink at each!
Trader Sam's Grotto, Polynesian Hotel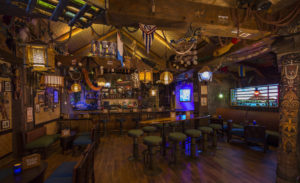 Located in the Polynesian, this used to be hole in the wall bar will take you to a whole new world.  Filled with old Disney memorabilia, the themed tiki drinks not only come in their own cups, but with their own "acts" throughout the 47 person max room.  Due to its popularity, there is now an outside bar you can enjoy while waiting for your pager to go off.
Personal fav: Tiki Tiki Tiki Tiki Tiki Rum
La Cava del Tequila,  EPCOT, Mexico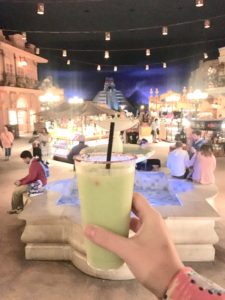 Inside the pyramid in Mexico, La Cava del Tequilla has some of the best margaritas.  Ever. But they have plenty more than that! If you're looking for a place to sit, you may get lucky and get a table quickly for some chips, queso, and guac. They also offer plenty of tequila flights and shots.
Personal fav: Avocado Margarita
Jock Lindsey's Hangar Bar, Disney Springs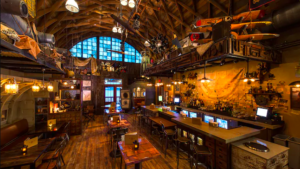 Whether you're an Indiana Jones fan or not, this fun bar will have you checking out all of the decor. Just think tiki bar Indiana Jones style. There is plenty of outdoor seating
Personal fav: Air Pirate's Mule
Boathouse Dock Bar, Disney Springs
If you're looking for a bottle of wine and the sunset, the Boathouse is the place to be.  Located out on the water, they have a full bar and plenty of wine to choose from. The dock extends over the water with a boat museum on either side as well as seating sections with couches and chairs.
Personal fav: Splitting a bottle of Sauvignon Blanc.
Baseline Tap House, Disney's Hollywood Studios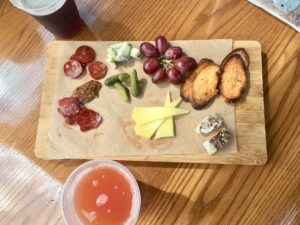 Featuring craft beers from California, Baseline Tap has really brought Disney's Hollywood Studios into the world of eating and drinking. They also have wine on tap as well as two cocktails. They don't have a big food selection, but what they have makes for a great snack.  It's mostly outdoor seating, but I've never had to wait long to get a table.
Personal fav: Ace Space Bloody Orange Hard Cider
The Hollywood Brown Derby Lounge, Disney Hollywood Studios 
Previously a temporary bar, this setup got it's permanent stand a couple of years ago. There are a few tables outside, but they fill up pretty quickly due to their views of Center Stage. It's a great full bar with a pitstop when walking from one area of the park to another.
Personal fav: Walking around DHS with a Dirty Martini
Nomad Lounge, Disney's Animal Kingdom
I thoroughly enjoy the Dawa bar at Animal Kingdom, mostly because I have never had a bartender besides Bob, but Nomad Lounge is where I spend most of my time.  Right outside of Pandora and connected to Tiffin's, Nomad Lounge is a beautiful indoor (read: air conditioned) bar with a solid about of comfortable seating.
Personal fav: A bottle of white wine with a side of water. (Animal Kingdom gets v. hot)
Happy Planning (and drinking)!
Victoria