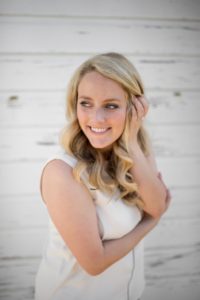 Shelly of Atlanta based wedding bakery Pastry Shells didn't jump right into the wedding industry.  She graduated with a degree in engineering and followed her degree for 7 years!  All the while, she was baking wedding cakes and cookies on the side. With baking as her passion, she went full time with Pastry Shells in 2017, bringing even more beautiful and delectable treats to the Atlanta area and beyond!
Shelly took some time to talk with me about getting personalized or custom cookies for any event you may be throwing.  We promise, they'll be a HUGE hit!
Besides wedding favors, what are the most common events people get custom cookies for?
Birthdays and Showers are really popular event for personalized cookies!
I am thinking of getting some cookies for a bachelorette party or bridal shower, what trends are you seeing currently for these events?
For bachelorette parties I am seeing a lot of margarita/Mexican/beach themed requests, think sunglasses, sombreros, margaritas, beach balls, etc. For showers people are loving the simple circle with a pretty font on them.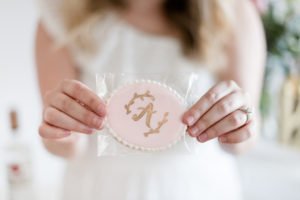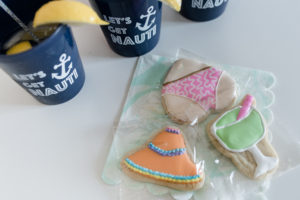 I am looking for a specific design.  Can I show you a photo or my Pinterest board?
Of course!  Most of the time, my clients do just show me a photo because they contact me after already knowing what they want.  I customize all my cookies to exactly what you like.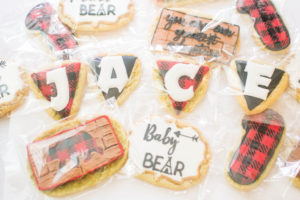 They're so beautiful, are they going to taste good too? 
Every cookie maker has a different type of cookies so it depends on what you like.  Some bakers make a shortbread-type cookie which is usually drier and thicker than the typical sugar cookies recipe.  My recipe is the chewy sugar cookie that a lot of people love!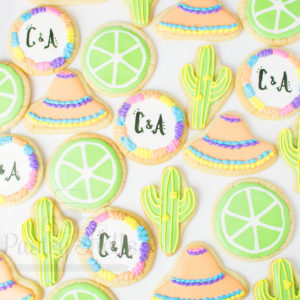 Can custom cookies be shipped? How will they be packaged? 
Definitely!  I ship cookies all over the U.S.  I individually seal the cookies to keep their freshness then wrap the cookies in sets of two with bubble wrap.  I package all the cookies with a bunch of bubble wrap, peanuts, etc. so they stay super safe.  I always ship with USPS Priority Mail so the cookies arrive within 1-3 days to make sure you get the freshest cookies possible.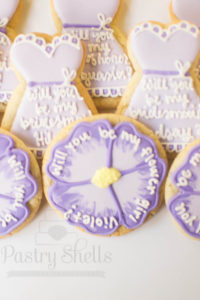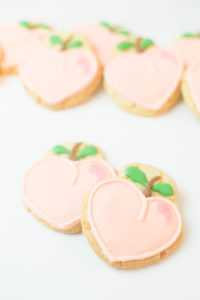 How long will the cookies last? 
They can last 4-6 weeks but I prefer them to be eaten within 1-2 weeks.
How far in advance do custom cookies need to be ordered? 
Typically they should be ordered at least 2 months in advance.  Rarely, I can squeeze in a last minute (within a month) order if I'm already making some cookies that same date.
Thank you so much Shelly! Now I am EXTREMELY hungry and can't wait to get my hands on more of your delicious cookies!
Happy Planning!
Victoria